Peter B. Herrera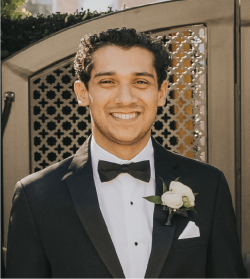 Peter Herrera is a marketing professional with a rich and varied career spanning over a decade. He joined Rehmani & Associates in August 2019 as the Director of Marketing and has since taken on the additional role of Office Manager, effectively becoming a crucial member of the company's management team.
At Rehmani & Associates, Peter works closely with the founder Suzanne Rehmani to create and execute strategic plans for the firm's short-term and long-term growth. His extensive experience in the marketing industry has allowed him to bring a fresh perspective and innovative solutions to the firm's marketing efforts.
Before joining Rehmani & Associates, Peter served as the marketing director at a mid-size private laboratory in Irvine, CA. During his tenure there, he was instrumental in launching the company's In-vitro Fertilization testing on a global scale, enabling women all over the world to become mothers. Peter's keen marketing instincts and ability to think outside the box were key in the successful execution of this project.
Since joining Rehmani & Associates, Peter has made significant contributions to the company's operations. He implemented a paperless operational system, which has helped the company save time and resources, while also improving its environmental footprint. He also introduced a new Client Relationship Management Program that has streamlined the firm's interactions with its clients, enhancing customer satisfaction.
Peter's creative flair and marketing acumen are reflected in the advertising materials he has designed for Rehmani & Associates. His designs have helped the company stand out in a competitive marketplace, attracting new clients and boosting the firm's brand image.
Peter holds a Bachelor of Arts in Marketing from California State University. He is passionate about his work and is committed to staying abreast of the latest trends and innovations in the marketing industry.
Beyond work, Peter is a man of many interests. He enjoys attending concerts, where he can soak up the energy of live music and enjoy the company of like-minded people. He is also an avid fan of comedy, and Netflix is his go-to platform for watching his favorite shows. Additionally, Peter loves to travel and explore new places, cultures, and cuisines.
In summary, Peter Herrera is a dynamic and talented marketing professional who has made a significant impact at Rehmani & Associates. His expertise, creativity, and passion for marketing have helped the firm achieve its goals and establish a strong presence in its industry.